Top investment strategies
1. Traditional buy-to-let
The most common property investment type, traditional buy-to-let involves investing in a property with the intention of finding tenants to live in it. The rent should ideally cover any mortgage borrowing and other costs. This strategy is normally a medium to long-term investment, with returns made through the rental income as well as the future sale of the property for a profit where applicable.
There are many factors to take into account, including stamp duty costs, management fees if you won't be managing the property yourself, running and maintenance costs and finding and dealing with tenants. Almost any residential property can be used as a buy-to-let provided it meets all the required standards, but it is important to choose the right buy-to-let property investment for you.
If you are interested in this strategy, take a look at our buy-to-let property investment page for more information.
2. Build-to-rent
Build-to-rent properties are those that have been specifically designed for renters rather than owner-occupiers. They offer a solution to the rising demand for high-quality rental housing to reflect the needs of today's renters. Build-to-rent developments tend to have more of a focus on services such as on-site management, amenities, and shared spaces such as work zones, fitness centres, creches, and outdoor space.
They are a popular investment type for institutional and individual investors, and often come with the option to be fully managed by a management company, sometimes with guaranteed annual yields.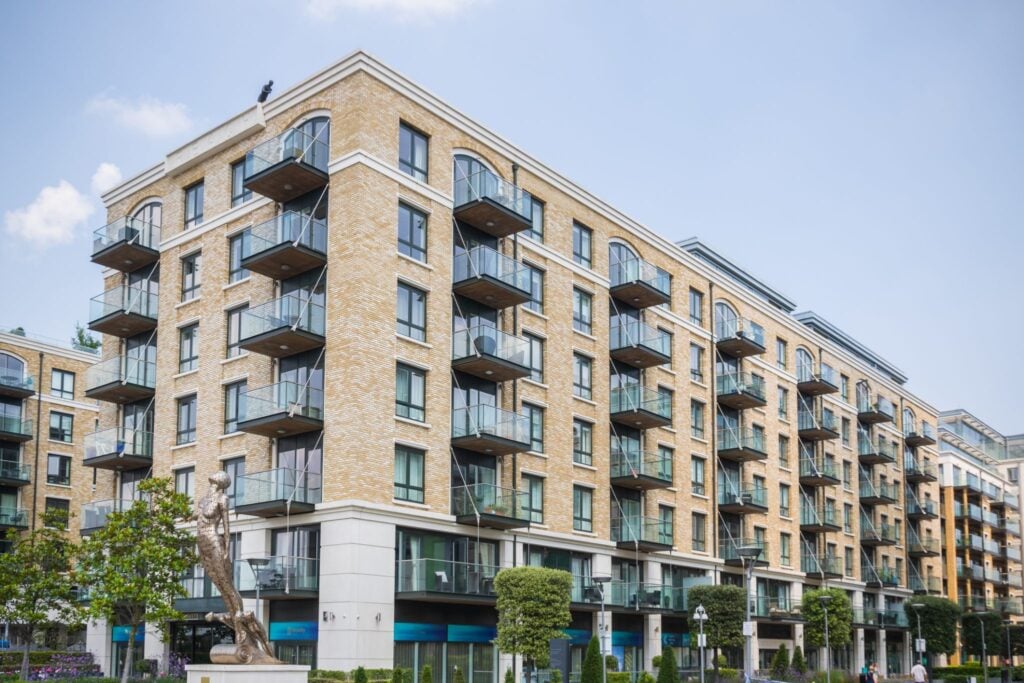 3. HMOs
Houses in multiple occupation (HMOs) are properties that have at least three tenants living there forming more than one household (eg. members of more than one family), and have shared toilet, bathroom or kitchen facilities with other tenants. Large HMOs are properties that have at least five unrelated tenants living there, and have shared toilet, bathroom or kitchen facilities. Since 1 October 2018, all large HMO properties require mandatory licences, while many smaller HMOs now fall under selective or additional licensing schemes. Check with your local authority for more information. HMOs are a popular investment choice as they can provide higher than average yields, although they can be more expensive from the outset and require more management than a non-HMO.
4. Off-plan
Investing in a property before it's been built, known as off-plan, has become an increasingly popular way for both individual and institutional investors to achieve greater returns.
One of the major plus-sides is that the value at which you secure the property at the preliminary stage is likely to have increased by the time the development is completed, meaning the potential for capital appreciation is much higher than buying traditionally. Some projects are even offered at discounts of up to 5% for early investors, while the added bonus of getting in early is that you can be more selective about which property or plot you choose.
Some developers offer buyers and investors the chance to personalise their units with fixtures and fittings. They can also provide furniture packs at an extra cost, meaning the whole property comes furnished on completion and ready to be tenanted.
5. Furnished holiday lets
This type of property investment has a different focus to long-term rental properties, as they are only rented out for part of the year. Choosing the right location is probably one of the most important factors, as your target market will be both UK and international holiday-makers. Furnished holiday lets can provide extremely high returns as the daily or weekly charge is significantly higher than traditional buy-to-let. There are also potential tax advantages that may be applied, as they are classed as a business, meaning you can often claim certain expenses. However, they may come with added maintenance and running processes to take into consideration, due to the high turnaround of customers compared to buy-to-let, which is something that should be factored in. To qualify as a furnished holiday let, it must be available for at least 210 days a year, and rented commercially for at least 105 days a year.
6. Freehold or leasehold
The majority of houses in the UK are freehold, which means you own the property as well as the land it sits on, and you are solely responsible for its maintenance. Some freeholds are shared – for example, where at least half of the leaseholders in a building have agreed to buy the freehold between them to take control of the building and its costs. However, more recently, some new-build houses have been sold on a leasehold rather than freehold basis, so homebuyers need to make sure they find out what type of property they're buying.
Owning a leasehold means you only own the property for the length of the lease agreement, after which point ownership returns to the freeholder. It's vital to know how many years are left on the lease before you commit to buying, as for anything less than 70 years you might struggle to get a mortgage, and it can be difficult to sell a property with a lease of less than 80 years. With leasehold, you don't own the land and won't be responsible for running or maintaining the building if it's in a block. However, you may share the costs of this with other leaseholders through services charges, ground rent, administration fees and buildings insurance.
You can browse various types of investment property on our listing page today.
STAY AHEAD OF THE MARKET
Sign up for first access to new developments and exclusive property investment opportunities.
We send limited and targeted emails on new launches and exclusive deals which best fit your areas. We are trusted by over 26,000 active buyers as their source for new stock.
New property developments
Professional market reports
Property deal alerts
Development updates