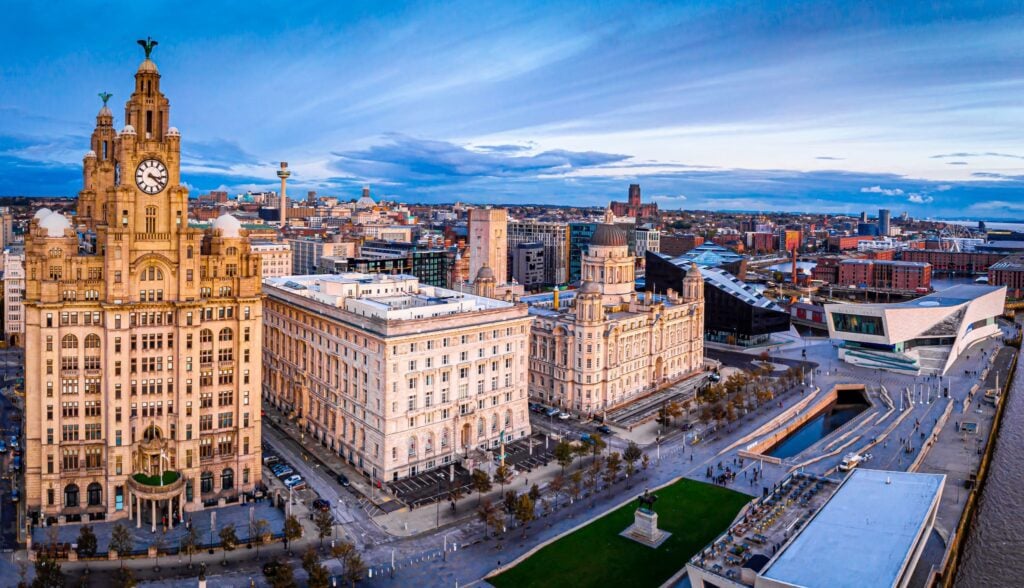 Liverpool's buy-to-let property investments
Gain exclusive access to the newest Liverpool property investment opportunities with the help of our expert consultants.
Looking to build a premium property investment portfolio & produce lucrative returns?
Let us help you secure lucrative Liverpool property investment opportunities to ensure unrivalled passive income.
As an award-winning investment consultancy, BuyAssociation is dedicated to providing our community of investors with property opportunities sourced directly from leading developers in the UK.
We connect investors and developers at the primary stages of development projects, securing exclusive discounts through our group buying power. Our careful approach to acquiring investment opportunities grants our clients access to high-quality, lucrative developments before anyone else.
We work closely with developers both regionally and internationally, and some of the locations we focus on include Manchester, Leeds, Stockport, Salford, Liverpool, Birmingham and Nottingham.
By turning to BuyAssociation, you can expect to benefit from a smooth, streamlined, and straightforward investment process. To talk to us about acquiring strong investments, get in touch today.
Why invest in Liverpool?
Free access to lucrative developer stock in the centre of Liverpool
World-class regeneration projects worth around £7bn currently underway
Average yields above 5% on rental properties in 2023, with some city centre postcodes having been known to generate rental yields as high as 10%
Thriving property market with rental values soaring year on year
As the city centre population continues to grow at a record rate and the number of start-up businesses increases, Liverpool remains one of the leading UK hotspots for property investors.
Known for its culture and heritage, Liverpool is one of the UK's best-loved cities, boasting a rich legacy that includes many notable historic moments, such as the rise of The Beatles as well as its ties with the ill-fated Titanic.
In recognition of the city's musical influence and famous history, the European Capital of Culture award was bestowed upon Liverpool over ten years ago, and the city has not stopped building its legacy as the years have gone by.
Over this period, Merseyside has evolved relentlessly and gained an unmatched reputation as one of Britain's most popular tourist destinations for international and local visitors.
Opportunities for property investment in Liverpool
We are always eagerly on the lookout for upcoming build-to-rent projects, discounted HMO opportunities and lucrative, converted buy-to-let units in Liverpool's thriving property market.
In previous years, we have acquired residential regeneration developments close to Liverpool Docks, which have offered residents spectacular views and quick access to the city centre. These developments exemplify how we place location, quality, and profitability at the forefront of our mission in securing unique investment opportunities.
Most recently, the redevelopment of Liverpool Waters, a £5.5bn scheme in the city's northern docks, has been attracting huge interest from property investors. This mammoth 30-year project will see the development of five distinct neighbourhoods across two million square metres of land, transforming the city's historic waterfront into incredible business, residential, and leisure spaces.
BuyAssociation is working closely with Peel L&P, the developers working on the Liverpool Waters project, and has already helped a huge number of investors secure units in the first neighbourhoods within the new developments.
Our property experts predict that Liverpool will remain a highly rewarding location for institutional investors and individual landlords to build sustainable property portfolios over the coming years, with numerous Liverpool property investment opportunities on their way.
Property investments in Liverpool
Six reasons why Liverpool is a good place to invest in property
The property market in Liverpool city centre is thriving, with regeneration steering a wealth of opportunities for buy-to-let landlords. Equally, HMOs are extremely prominent as young professionals seek affordable housing.
The Liverpool property market is strong with huge demand and low supply throughout the year, offering up plenty of opportunities for regeneration and residential development.
There are many reasons why Liverpool's property market continues to exceed expectations – it is centrally located between major airports such as Liverpool John Lennon Airport and Manchester Airport, there is the potential for growth and expansion into Europe through new bridge connections, business rates are amongst the lowest in the region, and the local economy is booming due to continued investment from global brands such as Amazon.
Demand is driven by both domestic and overseas buyers looking for affordable family homes or first-time investors purchasing starter apartments. Sellers are also able to benefit from increased demand and capital growth as they can raise prices without losing too much value as the area continues to attract so many people.
Liverpool rental yield is amongst the best in the UK
Liverpool has been recognised as one of the most profitable places to own a buy-to-let property for yields.
An average yield of 5.0% makes it one of the highest rates in the country, and a great deal higher than London's 3.0%. Investors in the North West are looking for a way to diversify their portfolios and get ahead of market trends by investing in postcodes in the region.
Liverpool has a healthy rental market due to its impressive student and young professional population, making it an exceptionally attractive location for buying an investment property.
Liverpool was named the best place to work and live in the UK
In 2022, Liverpool was deemed the best place to live and work in the country based on data compiled by financial services company OneFamily.
The city scored particularly highly for factors including the manageable cost of living, pace of life, happiness of citizens, and pride in the city. In terms of work, the majority of people living in Liverpool felt their working conditions were well-balanced with their personal pursuits.
Career prospects in the area continue to improve thanks to numerous ongoing regeneration projects bringing new business and jobs to the city and improving opportunities for all.
According to data from the Land Registry, the average house price in Liverpool in 2023 is around £180,000, which is much lower than the UK average, which currently sits at £285,000. This makes Liverpool one of the most affordable cities to live in the UK.
Rental demand and house price growth is thriving
Overall, buyer interest in the Liverpool property market increased by 32% in 2020 compared to the previous year, and offers accepted increased by 77%. Landlords ranked Liverpool third on a list of the best towns for owning a buy-to-let property in the UK, after Manchester and London.
Despite an increased interest in Liverpool property investment, house prices remain affordable, with one-bedroom properties averaging £94,000, making the city an appealing place to invest in real estate. According to predictions, house prices in the North West region will rise by 24% through 2024, outpacing everywhere else in the country.
Liverpool has excellent transport links
The extensive array of public transport available in Liverpool is arguably one of the biggest selling points for those looking to relocate to the area. Travelling to and from Liverpool's city centre on a daily basis could not be easier. With Liverpool Lime Street Station running regular services, Mersey Ferries offering an efficient and enjoyable way to travel along the River Mersey, and the extensive bus network proving reliable for commuters, Liverpool's accessibility is top-notch.
One of the country's most popular airports is also based here. John Lennon Airport sees around 31 million people travel to and from the country every year, and job prospects are significantly higher due to the convenience of having a local airport. Additionally, tourism is increased because of the placement of this airport, which means that short-term let investments can be incredibly lucrative.
Award-winning universities attract thousands of students
The city has five world-class universities, the largest number in the country, and billion-pound investment projects ongoing. As a result, thousands of students across the globe choose to embark on their educational journeys and pursue career opportunities in this exciting city.
Liverpool John Moores University alone welcomes around 15,000-25,000 students each year, resulting in a large student population looking for quality accommodation in close proximity to the university. This high intake of students includes a portion of international students who are keen to study courses in programmes such as Life Sciences and Medicine, Natural Sciences, and Arts and Humanities.
Many post-graduate students choose to continue their careers in Liverpool, too. In 2019, Liverpool was voted one of the best Northern cities for graduates to start their careers. It is because of this that rental properties receive strong demand from young professionals looking for affordable accommodation.
Unrivalled tourism potential
Liverpool is packed with countless things to do for people with a wide range of interests. It is because of these endless possibilities that investors and tenants alike turn to Liverpool as a leading city to live and work in. The historical architecture and spread of green spaces and seafront views make this city one of the most beautiful areas in the entire UK.
The main attraction list includes:
Liverpool One
The Tate Liverpool art gallery
Exhibition Centre Liverpool
Liverpool Cathedral
A wide range of music venues such as the legendary Cavern Club, which hosts weekly events that introduce new music acts to local music enthusiasts
Liverpool Football Club, situated in Anfield
What are the most popular areas for property investment in Liverpool?
Before investing in property in Liverpool, it's important to familiarise yourself with all of the city's major districts, particularly those that are most popular among investors and renters.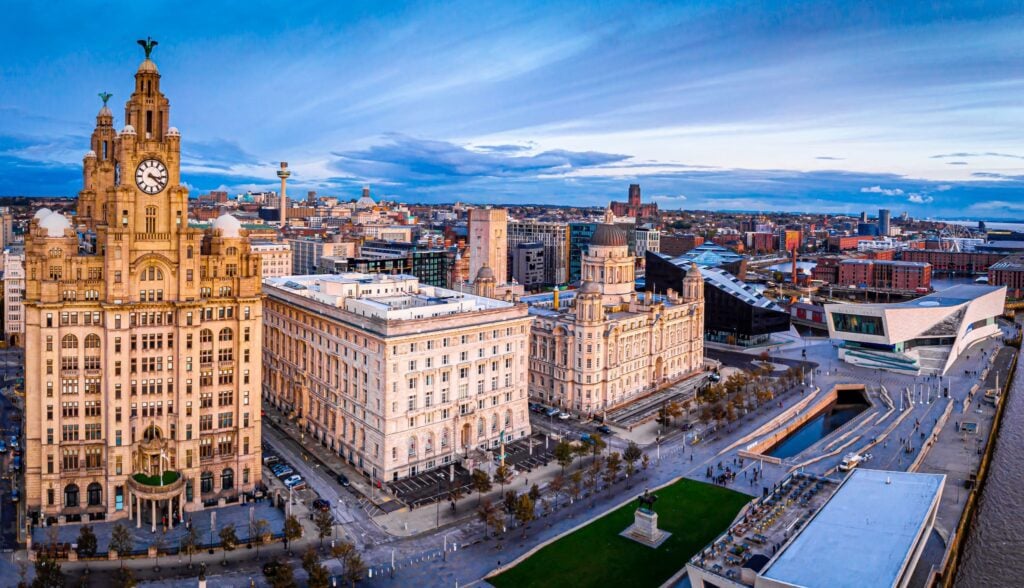 Inner City Liverpool
It will surely come as no surprise that Liverpool city centre is the most popular area among both tourists and students, as well as young professionals looking for a place to live in the city.
The city centre is often considered the best area to make a property investment in Liverpool because property prices are often more affordable but come with more rental demand.
Many investors look for flats to buy in Liverpool city centre or other inner-city areas, with the average asking price for one-bedroom apartments in the city centre sitting at £124,792 as of June 2022.
North Liverpool
The North Liverpool district is becoming increasingly popular amongst those searching for Liverpool property investment opportunities. It is known as one of the more affordable areas in Liverpool, making it a favourite for first-time buyers and investors.
North Liverpool's Anfield is home to the city's famous £1 house scheme, which allowed many students and lower-income families to purchase a home for just one pound back in 2017.
Once a very run-down area, Anfield is also undergoing a lot of regeneration, with plans underway to vastly improve the quality of life for local residents.
Property prices in Anfield averaged around £100,264 over the past 12 months, while other areas of North Liverpool such as Maghull averaged around £224,441.
South Liverpool
With some of Liverpool's highest property prices, South Liverpool is considered a more affluent area which is generally more popular with young couples or families looking to buy a house in Liverpool.
Areas such as Garston and Aigburth are particularly popular with buy-to-let investors due to their growing young professional scene. South Liverpool boasts a strong property market thanks to rising house prices and is viewed as one of the best areas for property investment in Liverpool.
The appeal of South Liverpool lies mainly in the attractions available, with plenty of green space, shops, bars and restaurants, and a range of good schools.
Current asking prices in the L18 postcode, which spans affluent areas like Mossley Hill, can be up to £365,000.
Liverpool regeneration projects
Liverpool has undergone extensive regeneration over the past 20 years, and the ongoing redevelopment schemes within the city play a big part in the appeal of Liverpool property investment.
Here are some of Liverpool's most popular regeneration zones that offer excellent opportunities for property investors:
Liverpool Waters
This mammoth 30-year project will see the development of five distinct neighbourhoods across two million square metres of land, transforming Liverpool's historic waterfront into incredible business, residential, and leisure spaces.
The Liverpool Waters regeneration project is a whopping £5.5bn investment, and will have a huge impact on the investability of Liverpool and its surrounding area.
BuyAssociation has already helped a huge number of investors to secure units in the first neighbourhoods within the new Liverpool Waters development, and we anticipate that there will be more to come as work on this incredible regeneration project continues.
The Baltic Triangle
Once an abandoned and derelict neighbourhood in the south end of Liverpool city centre, the Baltic Triangle is an area that's experienced massive regeneration over recent years.
£128 million has been invested into new developments in the Baltic Triangle since 2012, transforming the area into a hub for the creative industries. Workspaces like the Baltic Creative are attracting fresh talent to the city, while new nightlife and leisure attractions are frequently emerging in the area.
Since the Baltic area is just a short walk from the main attractions of the city centre, it has proved to be an incredibly trendy hotspot for young tenants.
With a further £62 million worth of regeneration currently underway, the Baltic Triangle is certainly one to watch for Liverpool property investment opportunities.
The Knowledge Quarter
The Liverpool Knowledge Quarter is another of the city's most popular regeneration areas and a great place to consider for Liverpool property investment.
This innovative regeneration scheme has strengthened Liverpool's science and research sector by introducing expansive developments such as the Liverpool Science Park, the Royal College of Physicians, Sensor City, and more.
With more than £1 billion worth of developments underway, the Knowledge Quarter has proven to be a vital part of the city's regeneration and is encouraging more people to pursue Liverpool property investment opportunities.
The importance of location when investing in property
At BuyAssociation, we source investment opportunities by conducting significant research on data and statistics, market forecasts, average property prices, economic growth and tenant demand. By paying attention to exciting locations with endless opportunities in industry and property, we can acquire developments that will maximise property portfolios. It is crucial for property investors to focus on locations with strong metrics and positive forecasts.
Whether you are a first-time investor or an experienced property buyer, the following primary factors should always be considered when searching for advantageous investment property:
House values

Taking into account the intended value of your property once it comes to reselling is vital for achieving capital appreciation. As part of your location research, take a look into the significantly higher-valued homes and where they may be placed across the city. You want to ensure that the price you pay for a property is exactly what it's worth, factoring in any additional costs such as requirements for renovation, property taxes, and maintenance.

Rental prices and demand

City centre living is growing more and more popular in many key cities across the country. For this reason, many tenants are willing to pay a high rental cost for the convenience of living in a central area in close proximity to universities, businesses, and retail. By researching the average rent charges of different locations of interest, you will be able to accurately estimate the rental costs you should be charging. Similarly, it is essential that the location you pick has constant rental demand in order to avoid void periods and loss of income.
Market growth

Investing in a prime area predicted for strong future growth is crucial to your decision making. By analysing the forecasts for population and economic growth, you should be able to narrow your search. As an increase in population occurs, the demand for housing correlates, leading to an even larger increase in investment opportunities.

Business opportunities

Many of the UK's biggest cities have transformed into specialised business hubs for a variety of sectors. By looking into the prospects for careers and upcoming jobs in different areas, you should gain an understanding of how likely people are to move to that location. Most of the UK's thriving cities are also prominent for business, meaning that a rise in population is inevitable where people wish to relocate to advance their careers.
Interested in property investment in Liverpool? Contact BuyAssociation today
Our team of friendly and experienced property investment consultants are here to discuss your Liverpool property investment goals and assist you in achieving them.
Whether you are looking for direction to expert investment advice, additional knowledge to help you in your venture, or exclusive access to premium opportunities, we are here to provide you with the support you need.
If you'd like to benefit from our consultation services and connect with established developers, get in touch to discuss your goals today.
GET IN TOUCH
Join over 26,000 property investors
Access advice and unique property investment opportunities directly from leading developers throughout the UK